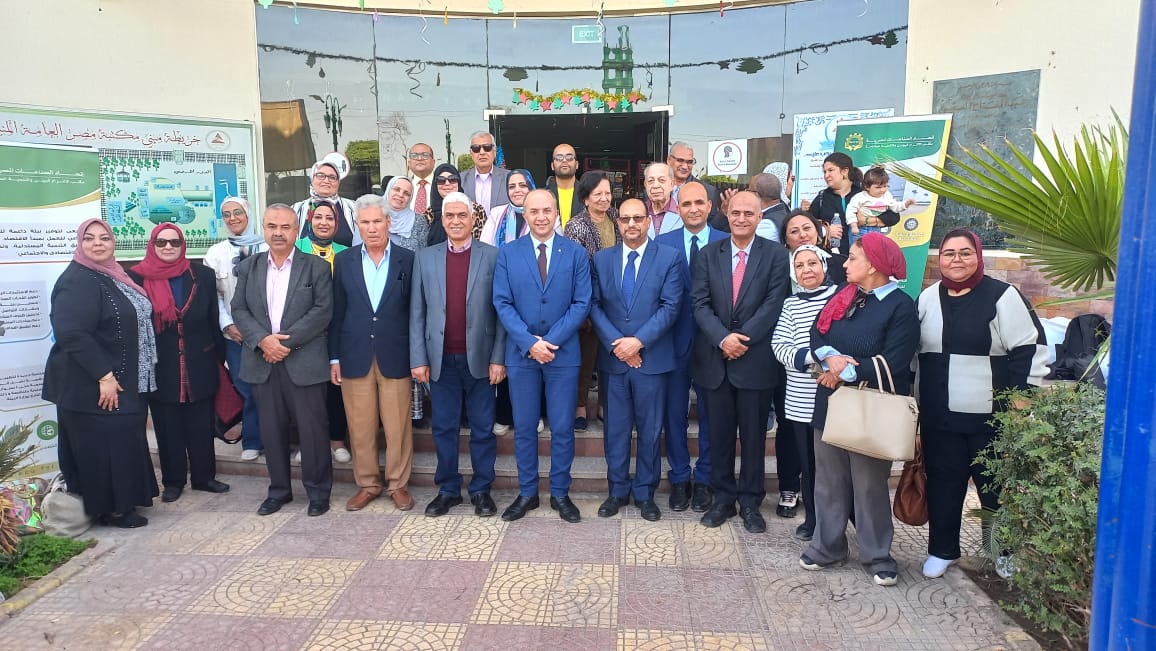 Date: 14/03/2023
Eng. Ahmed Kamal, ECO Executive Director, announced that Environmental Compliance Office (ECO) at Federation of Egyptian Industries (FEI), measures carbon footprint for any entity in Egypt by ECO experts or consulting agencies operating in Egypt on measuring the carbon footprint, in cooperation with several agencies, including the Ministry of Environment and the Egyptian Organization for Standards and Quality.
This came during a workshop on "Capacity Building of Media Professionals in Green Economy", which was organized in Minya Governorate by the Environmental and Development Writers Association, headed by Mahmoud Bakr, in cooperation with ECO, and in the presence of Eng. Adel Taha, ECO Sustainable Development Expert, the Board of Directors, environmental journalists and media professionals of the Environmental Writers Association.
At the beginning of his speech, Eng. Ahmed Kamal affirmed the importance of environmental media as a mechanism for overcoming and mitigating environmental problems and one of the elements in preserving the environment, based on creating environmental awareness and acquiring and transferring knowledge, referring to the institutional cooperation between ECO and the Environmental Writers Association during The coming period by organizing several field visits to the initiatives implemented by ECO in a number of governorates of the Republic.
During the workshop, Eng. Ahmed Kamal reviewed one of the most important national programmmes in the energy saving, "Best Practices for Improving Energy Efficiency in Industrial institutions" programme, which aims at building capacities and supporting companies to implement energy efficiency technologies, in cooperation with Ministry of Electricity and Renewable Energy and the Egyptian-German Joint Committee on Renewable Energy, Energy Efficiency and Environmental Protection (JCEE), represented by the German Technical Cooperation Office (GIZ), in order to achieve the maximum benefit for industrial institutions.
Eng. Ahmed Kamal added that the optimal and more efficient use of energy resources is one of the most important policies taken by Egypt to achieve sustainable energy supply at an appropriate cost for investors to face the prices increase at the local and global levels, and to face the impact of increased consumption on climate changes. In support of these policies, through "Energy Saving is a skill" Initiative, detailed feasibility studies are currently being prepared for improvement opportunities and the economic feasibility of the application, and the expected reduction in carbon dioxide emissions calculated as a result of the implementation of these technologies. In the first phase of the Initiative, 50 factories were selected from a total of 110 factories that were trained to prepare 175 certified energy managers in cooperation with an International expert and local experts to increase the number of technical personnel and experts specialized in energy management and compliance with the Egyptian Electricity Law and its implementing regulations.
Eng. Ahmed Kamal explained that the Initiative also contributes during the application period to localizing the local product for the selected technologies to improve the efficiency of boilers and insulation systems and raise the efficiency of motors in industrial operations to implement these technologies for 20 factories in the second phase, and the factories were selected according to technical criteria, in addition to the importance of senior management commitment to continually improving energy performance without affecting growth or productivity rates, while striving to achieve the greatest savings and the highest possible efficiency of equipment.
He added that in order to overcome the obstacles facing investors to implement these technologies, which is represented in the financial support for industrial facilities, through the revolving loan agreement, which came into force in 2005, ECO provides a green revolving loan of up to 7 million Egyptian pounds, to be paid in annual installments over a period ranging from one year to five years, including a grace year and annual administrative fees of 3.5% decreasing, for the application of technologies to improve energy efficiency and renewable energies within industrial facilities.
For her part, Eng. Wafaa Ismail, ECO Energy Sector Head, also explained that in addition to introductory seminars for engineers representing multiple energy-consuming industries such as glass, paper, plastic, rubber, paints, fertilizers and pesticides in various industrial zones in Cairo, the Delta and Alexandria, specialized training was implemented on mechanisms and methods for improving combustion efficiency in Boilers and furnaces, improving insulation systems, improving engine efficiency, MRV measurement and verification procedures and methods for each application according to ISO 50015 for energy performance indicators, and introducing the guidelines for measurement processes, over successive weeks, for representatives of selected factories in the chemical industries sector.
For his part, Eng. Adel Mohamed Taha, ECO Sustainable Development Expert, affirmed that the Responsible Care initiative of the Federation of Egyptian Industries is a global initiative for continuous development in the chemical industries sector, which was launched in 1985 in Canada and is currently being applied in 66 countries worldwide and aims to use resources effectively and reduce hazardous waste, improve health, safety and environment management, and provide assistance and guidance to promote sustainable chemicals management.