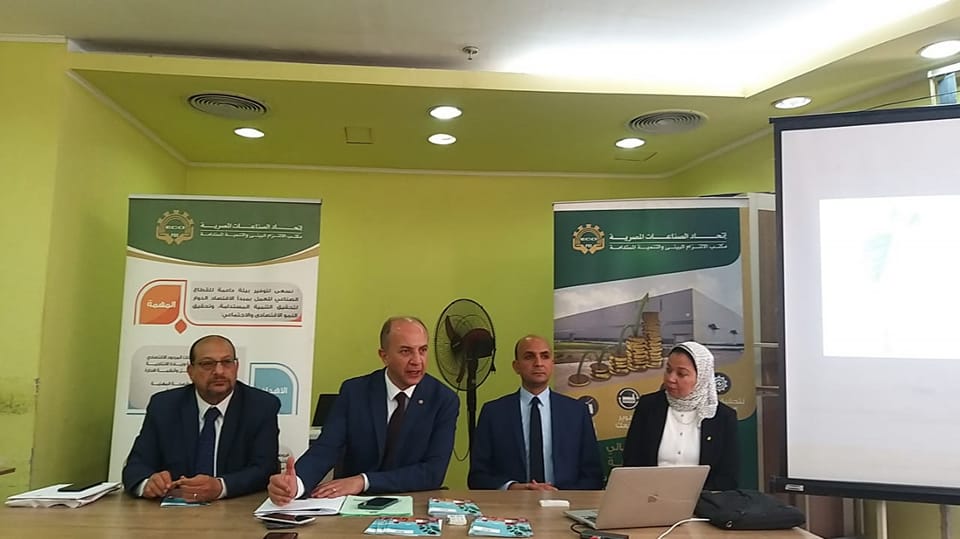 Date: 13/03/2023
Dr. Sherif Elgabaly, Chairman of the Steering Committee of Environmental Compliance Office at the Federation of Egyptian Industries, stated that in light of Egypt's success in hosting and organizing the 27th Conference of the Parties to the United Nations Framework Convention on Climate Change, Paris Agreement (COP27), and Egypt's direction towards the localization of the industry and production of green hydrogen as a source of energy transmission and one of the mechanisms aimed at reducing carbon emissions for many industrial sectors, ECO studied opportunities for green hydrogen applications in various industries, in line with international legislation that pushes towards adopting green economy concepts such as the European green deal and cross-border carbon tax.
In this regard, Eng. Ahmed Kamal Abdel Moneim, ECO Executive Director, indicated that ECO is currently cooperating with the United Nations Industrial Development Organization (UNIDO) to prepare a technical study to evaluate production technologies of low- carbon hydrogen in industry and to analyse and evaluate the current technologies for hydrogen and ammonia production in Egypt, including an analysis of the industrial sectors that could have the ability to use green or blue hydrogen in their production processes.
This came during a workshop on "Capacity building of Media Professionals in Green Economy", organized by the Environmental and Development Writers Association, headed by Mahmoud Bakr, in cooperation with ECO, held in Minya Governorate, in the presence of Eng. Adel Mohamed Taha, ECO Sustainable Development Expert, Eng. Wafaa Ismail Abdullah, ECO Energy Sector Head, Board of Directors, environmental journalists and media professionals at the Environmental Writers Association.
In his turn, Eng. Adel Taha, ECO Sustainable Development Expert, stated that hydrogen gas is used in several major industries, such as the ammonia industry, which is the main consumer of hydrogen gas with an annual consumption of around one million tons. It is also used in oil refineries, steel industry, and methanol industry.
Eng. Adel Taha, pointed out that the green hydrogen term refers to hydrogen that is produced by electrolysis of water using electricity generated from renewable sources, while grey hydrogen is produced by the traditional method through natural gas and water vapor, and carbon dioxide is generated as a result. In the case of blue hydrogen, it is produced in the same way as gray hydrogen, depending on natural gas and water vapor, but carbon dioxide gas is captured and stored through technologies dedicated to that, and there are other forms of hydrogen according to the energy source used in its production.